Zarakas tour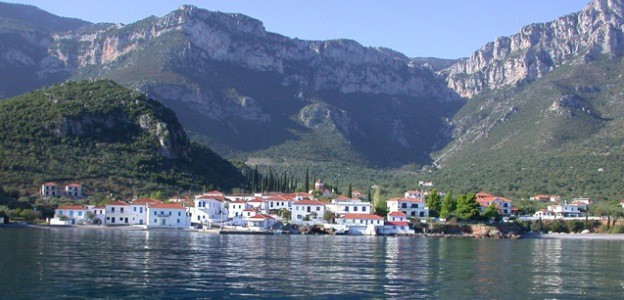 Villages: Epidaurus Limera, Gerakas, Reichia, Kyparissi
Beaches: Kastraki, Vlychada, Megali Ammos (Kyparissi)

The Northern Route introduces visitors to the Zarakas region, one of the most secluded and sparsely populated areas of the Greek mainland. It's a great place to explore the nature of Mount Parnon and the rugged coastline with its string of hidden beaches.
The Northern Route starts at the ruins of Epidaurus Limira. The few remnants of the ancient acropolis tell the story of the town that stood there three millennia ago.
Recommended beach: Kastraki
Next comes the tiny port town of Gerakas, well hidden within a scenic fjord. This well-protected anchorage is especially popular with sailing boats that frequent Gerakas during the warmer month of the year. People interested in the town's past may seek out the ruins of the ancient settlement of Zarakas.
Heading up north towards Richia, there is a detour to the right leading to the historic 19th-centuryEvangelistria Monastery.
The next stop is at Riechia, the main village of the area. Riechia boasts a folklore museum and some well-preserved buildings showcasing 19th-century and early 20th-century architecture.
Recommended beach: Vlychada
An interesting stop further north is at the Doukas organic winery in Lampokampos, a place to try and buy the local wines.
As the road continues towards Kyparissi, the scenery becomes more dramatic. Forest-covered mountains, steep cliffs and the commanding vistas of the Myrtoo Sea dominate the landscape around Kyparissi, a picturesque town surrounded by beaches, medieval castles and a hillside ideal for rock climbing. This serene place is especially attractive for people looking for seclusion and quiet.

We suggest you to eat in Kyparissi or on the way back taste the delicious seafood in one of the few taverns in Gerakas port.

Recommended beach: Μegali Ammos

Total distance from first to last stop: 46 km
© This route was initially created and published by the touristic website of Monemvasia Municipalitywww.monemvasia.gr