The Lower Town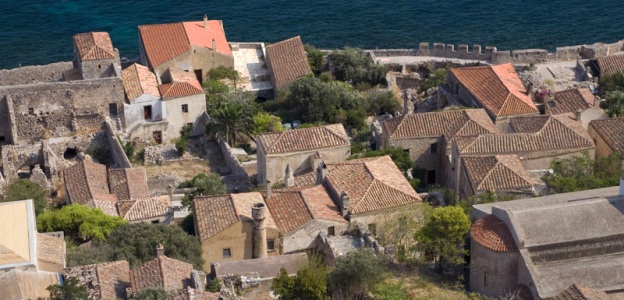 A genuine medieval town full of life
From the entry gate the main thoroughfare runs through the citadel from one end of the 'rock island' to the other. Today, as was the case in the past, the main street houses the varied shops, workshops, taverns and cafés, where one can wile away the hours browsing or enjoying a refreshing long drink on one of the many terraces overlooking the azure sea that surrounds the castle.
Savor the many local delicacies at one of the three renowned taverns that are located in the very heart of the city itself.
The central street leads you to the main square with the perfect meeting point, a ship's canon. On the central square stands Monemvasia's cathedral, named 'Christ Elkomenos' (The Crucified Christ). It was built in the 13th century and houses an ancient masterpiece icon dated around the 14th century A.D. which must be seen during your stay. On the opposite side of the church you can also visit Monemvasia's Turkish Mosque, built during the 16th century which has been converted to today's archaeological museum of the city.
From the central square, the so called "Canon", you can head downhill towards the "sea" walls, ending at the large "tapia" square with the white church of The Virgin of Chrysafitissa built during the 17th century. Weather permitting, one can cross over to the "Portello" gate and swim in the deep crystal clear waters under the shade of the bastion walls, while enjoying a panoramic view of the wondrous castle-city towering above.
It is well worth wandering through the network of alleyways on the lower slopes of the castle citadel amongst the ruins and the flowering bougainvilleas shadowing ancient archways and byways bordering homesteads that are steeped in history and local legend. One can also visit several byzantine churches among which worth noting are the churches of 'Mother Mary of the Myrtle', St. Nicholas, St. Stephen, St. Paul and St. Anna, to name but a few. Also worth visiting is the homestead of the famous greek poet and fellow Monemvasian writer Giannis Ritsos. His soul rests in Monemvasia, upon his 'stone ship' as he describes his beloved city, at the cemetery located just outside the fortress.
If time allows for it, a solitary tour around the perimeter and outer "sea" walls of the Lower Town will reward you with spectacular views of a bejeweled landscape budding with wild flowers bordering the brilliant blue sea of varying hues accompanied by the sound of the crashing waves. Your path will cross the east gate on the very edge of the outer bastions and the time worn light house that once guided the ships into the city's harbor.