The Upper Town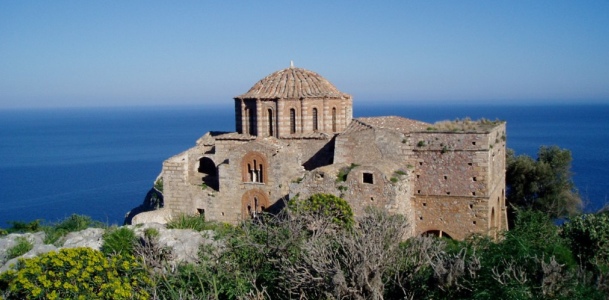 A little closer to the sky
One can reach the upper town or 'acropolis' climbing up the narrow pathway that leads you to the summit from the main square. On the summit, you can enjoy a breathtaking view of the fortress city below, surrounded by the sea. Positioned on the very edge of the cliff you will find the only building still left standing, the recently restored church of St. Sophia which was built in the 12th century A.D.
Once invincible fortress, the Upper Town was home for the aristocracy of Monemvasia. During the 17th century A.D. there were more than 500 mansions on these upper slopes of the castle citadel. Today, very little is left to remind this rich local history if not, the stone ruins and cisterns that are scattered amongst the wild flowers and bushes that hide its glorious past. The tour ends with a last climb up to the 'Goula' or 'acropolis' situated on the very tip of the rock face at approximately 300 mts. from sea level. Here, the views carry you across the bay to both the new city of Monemvasia and the expansive sea beyond.
MonemvasiaTOUR Tip: Climb to the Upper Town very early in the morning, just before dawn, and you will be rewarded with one of the best sunrises you have ever seen as the sun will be rising slowly from within the golden waters of Mirtoo Sea.