Guided Tours in the Castle of Monemvasia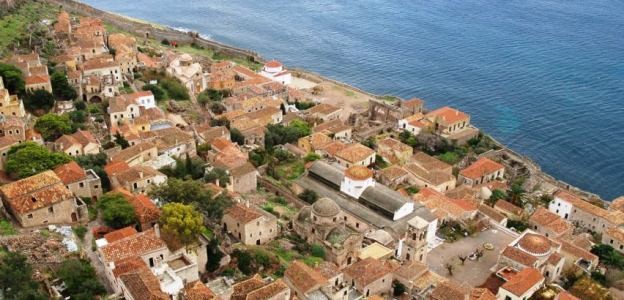 Unveiling the secrets of the castle...
We invite you to a unique walking tour through the meandrous narrow streets of the old town, the fortress walls and the churches, to bring back to life the course of the mythical castle-town throughout the centuries.
The Byzantines, the Venetians, the Ottomans, merchants from the West and the East, passed by Monemvasia leaving their marks on the buildings, the paved streets and the churches, giving it a cosmopolitan air.
We will get acquainted with the wealth, the power and the glory of the town, as well as the invasions, piracy and the difficulties of the life on the rock.
Gazing at Myrtoo Sea below the imposing rock, we will relive the stories and the legends, listen to poems written about this place, take a taste of magical Monemvasia.
In the morning tours, we will climb the windy stair to the top of the rock, cross the Upper Town Gate, enjoy the panoramic views and explore the recently restored houses, temples and of course the temple of Saint Sophia that stands imperiously at the very edge of the cliff.
Local history, architecture and culture will be explained during the tour. It is also included a refreshing stop, with a little tasting of local products (olive oil, wine, traditional sweets, etc.)
Tuesday to Sunday: 9.30 am
Mondays closed
Meeting point: In front of the main gate of the castle (Lower Town). It is recommended to wear a hat, sunglasses, comfortable shoes and have a bottle of water with you.
Tour Duration: Morning 120 min.
Languages spoken: English, Italian & Greek. *In case of mixed groups the tour will be given in English language.
Prices / person:
| | | |
| --- | --- | --- |
| | Price | Price with PeloPass |
| Adults | 20 € | 18 € |
| Children 12-18 years old | 16 € | 14 € |
| Students | 17 € | 15 € |
| Children up to 12 years old | Free! | Free! |
* Please note that if there are less than 4 paying participants, the tour might be canceled.
* If you wish to organize a private tour, please contact us.
For reservations or questions fill in the form below
contact us at info@monemvasiatour.com or
call us at +30 693 978 0001
*Reserving online, entitles you enjoying the discounts of PeloPass